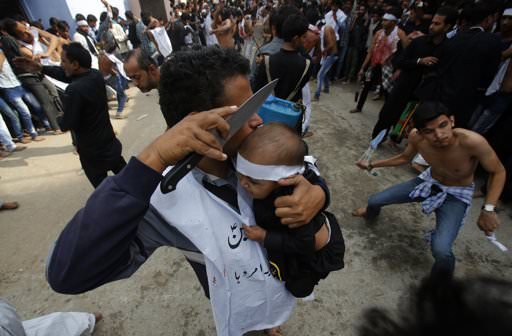 The Day of Ashura festival take place in the Middle-East on the 10th day of Muharram, the first month of the Islamic calendar and the second holiest month after Ramadan. It is held to mourn the death of the prophet Mohammed's grandson, Imam Husayn. While the festival is celebrated by both Sunni and Shia sects, each has a different account of what happened to Imam Husayn during the Battle of Karbala in 680 AD, both ending with him being beheaded.
Many of the photographs that have hit the Internet of this year's festival depict millions of Muslim men and boys taking part in the dramatic ceremony, posing with knives, spears and chains, as they inflict various methods of self-harm upon themselves.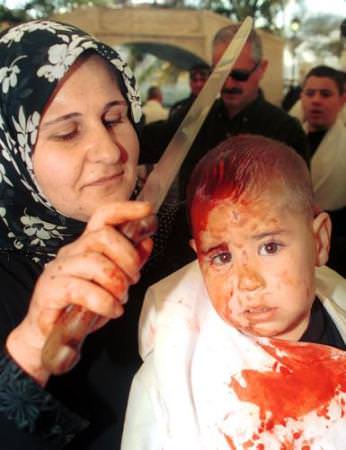 The reason for the infliction of self-harm isn't exactly clear, but the ritual show sees the streets of Iraq soaked with blood as they dig knives into their scalps and whip themselves with blades. Those not participating in the act, slap their chests, chant and take part in street plays.
It is also common to combine the rituals with a pilgrimage to the Mashhad al-Husyn in Iraq, which is thought to be the resting place of the Prophet's grandson.

Afghanistan, Iran, Iraq, Lebanon, Bahrain and Pakistan mark the day of Ashura as a public holiday, although it was banned under Saddam Hussein's rule.
But the annual ceremony is also often targeted by Islamic extremists, and this year is no exception.
It would seem that not even religious "holidays" are a time of peace for Muslims. Explosions targeting Shia Muslims in Dhaka killed one and injured dozens earlier today as they gathered in the old part of Bangladesh. Police claim these explosions were caused by improvised explosive devices, but they have no idea who carried the attacks out. The self-harm involved in the rituals of this festival are discouraged by some Shia leaders, who claim it creates a negative image of Islam. If you look at the photographs, you can see why.
From TAA.